The Flintstones fancy dress costumes are a great idea for any fan of Fred Flintstone and his friends and family.   I can't think of a better crowd than the Flintstones and Rubbles to dress up as for a group costume idea, yabba dabba doo!
One of our friends actually dressed up as Barney Rubble many moons ago and did a really good job of it.   I haven't actually seen any of our friends dress up as Fred and Wilma yet though so it could be a great idea for hubby and I this Halloween – what do you think?
In a hurry? Shop The Flintstones Halloween Costumes Now!
NOTE: As an Amazon Associate I earn from qualifying purchases – more information below
Enough yapping about the Flintstones, let's look at their costumes…..
Adult Fred Flintstone Costume
The Flintstones' patriarch is constantly scheming, although he has a big heart so if this sounds like you then check out the costume selection below.
There's really no mistaking who you are with this outfit whether you're saying yabba dabba doo or not!
The Flintstones Fred Flintstone Costume,
The Flintstones Fred Flintstone Costume
&
Wilma Flintstone Fancy Dress Costume
Fred's long suffering wife Wilma is also instantly recognizable to everyone who grew up watching The Flintstones on television and if you're looking for a great idea for a couples costume then Fred and Wilma Flintstone certainly make a fun costume idea.
There are a couple of costumes available to buy for Wilma as you can see below –
The Flintstones Wilma Flintstone Costume
The Flintstones Wilma Flintstone Costume
&
Pebbles Flintstone Halloween Costume
Fred & Wilma's only child was a daughter named Pebbles and you can get a fun Pebbles costume below-
&
So before you can say yabba dabba doozie! You can dress up as Pebbles and be part of a Flintstones group costume idea. If you're after a family costume then there are children costumes available as well.
Barney Rubble Halloween Costume
You can't really have Fred without his best friend Barney who would always do 'whatever you say, Fred' before they both landed up in trouble! I do have to issue a warning on this costume though …….. a friend of ours dressed up as Barney Rubble for a fancy dress party more moons ago than I care to say and he is still being called Barney by everyone. The look was a little too convincing methinks.
The Flintstone's Barney Rubble Deluxe Costume
The Flintstones Barney Rubble Fancy Dress Costume
&
Betty Rubble Halloween Costume
Great friends with Wilma Flintstone, Betty has to put up with Barney being regularly led astray by Fred and she does so while still looking pretty in a stone age way –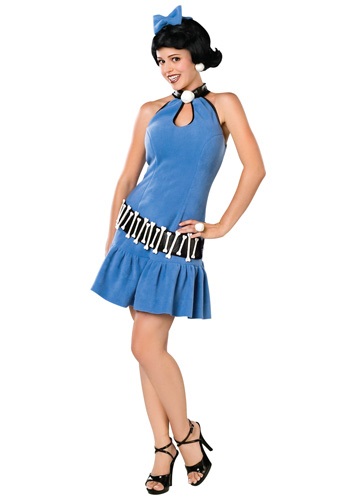 Betty Rubble Halloween Costume

&
This costume even includes the wig so is perfect if you want to dress up as Betty Rubble. I must admit I always preferred Betty's blue dress to Wilma's wardrobe. The shoes featured above aren't included but then I don't recall seeing her ever wear shoes on the cartoon so I'd go barefoot.
There are a few other options for Flintstone costumes such as Dino the Flintstone's pet or Bamm Bamm the Rubble's son, but I think I've covered the main Flintstones in this post. Of course you may decide that you don't want to buy a ready made costume and the Flintstone's costumes are quite basic which makes then a great idea for a diy costume.
Hi I'm Louanne from Everything Halloween, welcome to my blog! I just wanted to let you know that this post may contain affiliate links which means, at no cost to YOU, that I might receive compensation if you purchase something through a link on my site. In the online world this is called 'affiliate marketing' and is a very common way that bloggers make their money, if you want to find out more then check out this post to find out what is affiliate marketing and how we make money on this site,  If you want to see my full affiliate disclosure and the other 'legal stuff' then click here.