Pirate Costumes For Everyone – Pirate Children, Pirate Men and Pirate Women
Pirate costumes have long been a favorite of children everywhere, the pirate life seems like it's full of adventure when you're a child so haul up the Jolly Roger and away on the high seas we go! Tales of the notorious pirates from history such as Blackbeard and Henry Morgan have captured boys' imaginations. Girls like the idea of dressing up as female pirates like Mary Read or Anne Bonny famous pirates who could fight with the best of them!
After the success of Pirates of the Caribbean starring heart throb Johnny Depp it seemed that even adults wanted to dress up in pirate costumes and they started showing up at every fancy dress event around.
NOTE: As an Amazon Associate I earn from qualifying purchases – more information below
Do you want to wear a pirate costume this year? If so then you've come to the right place so with a 'ho ho ho and a bottle of rum' lets head out to sea for some privateering!
Make Your Own Pirate Costume
The first step to making your own pirate costume is by getting a pair of black pants that are quite baggy. If you are planning on wearing the black pants again for another occasion then you'll also need a pair of boots to tuck them into. If the pants are an old pair, however, then you can cut the bottoms of the legs off in a zig zag pattern just below the knee – Ahoy Me Hearty's – you're on your way!
The next step is to get a white button-up shirt to wear that is also baggy – think of Seinfeld's puffy shirt and you're on the right track! If you have any of the ruffled shirts from the 80s New Romantic era at the back of your wardrobe then that would be perfect. Leave a few buttons undone and have it half tucked into your pants so that it looks a little messy.
Next you'll need to get a black or red scarf and wrap it around your waist so that it looks like a sash. You're looking scarily Buccaneer-ish already.
Most pirates seem to like their vests so you will want to add one to your fancy dress outfit, plain black or red seems to be the best.
What about footwear? Well most pirate captains wore boots, but some of the other pirates would be barefooted so if you don't possess any boots then you'll need to go barefoot as I've never seen a pirate in shoes!
Now you need to get a pirate bandana to wear around your head, hat is optional, but the bandana is a must have. If you have pierced ears then gold hoops are the ear-rings of choice for a swashbuckling pirate of the high seas.
Finish your outfit off with a toy sword (a real one will get you in a lot of trouble!) and an eye patch and you've completed your very own pirate costume.
Now sometimes it is just plain simpler to buy yourself a pirate costume and we've catered for that as well with a great selection of men's pirate costumes, women's pirate costumes and children's pirate costumes.
Pirate Costumes For The Whole Family!
Mum, dad, baby, children and even the dog can dress up as a pirate this year – let us show you how.
Baby Pirate Costumes
Pirates start working at a young age these days, so swab the decks and be quick about it!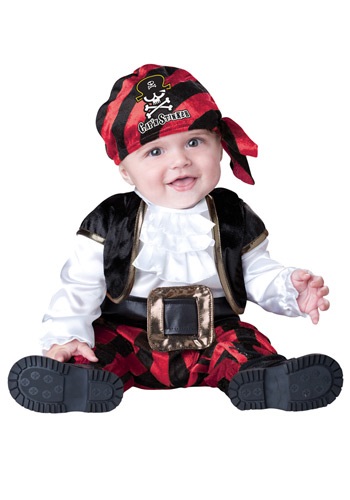 Baby Pirate Fancy Dress Costume

&
Pirate Costumes for Children
Boys and Girls Love To Dress As Pirates
Whether you want a pirate costume for a little boy or a teenage girl you'll find a great selection below decks!
Pirate Costumes for Children
What could be better than to dress up as a pirate? Whether it's for Halloween, a fancy dress party or just for play Pirate costumes are fun! I used to love p…
Pirate Costumes for Men
What kind of pirate costume are you after for the man in your life? Whether he wants to be a scallywag member of the pirate crew or Captain of the Jolly Roger I'm sure you'll find a perfect pirate costume below.
Pirate Costumes for Men
Are you looking for a pirate costume for yourself or your partner? Whether you want to dress up as a historical swashbuckler or a notorious pirate like Black..
Pirate Costumes for Ladies
From Elizabeth Swann to Pirate 'Oh La La' there are lots of different pirate costumes for ladies to choose from below decks –
Pirate Costumes for Ladies
Pirate Costumes are also available for women, although you could use one of the men's pirate costumes as many women pirates 'pretended' to be men in order to…
Pirate Costumes for the Dog
Even the dog can dress up as a pirate with the rest of the family and boy can he look good, in fact if my youngest dog (the oldest just hangs her head if you try and dress her up as though to say – why me?) had any of these pirate dog costumes on he would totally upstage the rest of us!
 Pirate Dog Pet Costume Pirate Girl Dog Costume Pirate Pup Dog Costume
&
Pirate Costume Accessories
Add The Finishing Touches To Your Pirate Costume
Accessories are an important part of the Pirate Costume, some costumes come with the eye patch, bandana and hat whereas others don't. What are essentials for a pirate? In my mind an eye patch and gold ear rings are classic pirateware. Then there's a parrot on the shoulder, a hook for a hand and a pirate's hat to consider when you're privateering.
Of course one of the important things that a pirate should never leave home without is his sword or cutlass and a telescope is pretty important. If you're a lucky pirate you'll own your very own copy of a treasure map so that you can steal someone else's bounty or find your own if you've hidden it somewhere.
Pirate Weapons
Choose Your Weapon of Choice
Now personally I always think of pirates with cutlasses but depending on when your pirate was riding the high seas he may have had a hand gun of some description. Check out possible weapons to help complete your pirate costume.
 Pirate Scimitar Toy Sword Buccaneer Pirate Gun Pirate Saber W/Garter
Pirate Headgear
Well some pirates like to wear hats which you can check out here –
Pirate Costume Hats
If there's one thing that will really complete a pirate costume it's the perfect pirate hat. Generally speaking we think of black hats with a skull on the fr…
Other pirates are happy to stick with a bandana of choice such as these ones –
 24 Assorted Pirate Bandanas Pirate Headwrap, Adult, One Size Pink Pirate Girl Cotton Bandanna (1 Dozen)
Pirate Teeth
My daughter was given a book when she was in kindy called Pirates Don't Take Baths, she loved that book and read it over and over again. If pirates don't take baths then they certainly don't clean their teeth which is why pirates (as a whole) don't sport pearly white teeth instead they have teeth rather like the ones in this pirate accessory set –

Pirate Kit
This accessory set includes – Skull Eye Patch, Bandana, Earing, and Rotten Teeth!
Pirate Eye Patch
Something which really screams pirate to me is an eye patch – Arrrgghhhh!

Pirate's Eye Patch & Earring Set
There are lots of different eye patches that you can choose from but this one comes in a set with a pirates earring as well – aarrrrh!
Pirate Navigation Essentials
In order to be a successful pirate you'll need to be able to find the buried treasure and this means you'll need a telescope, compass and above all a treasure map!
 3 Glow-in-the-Dark Brass Compass Old Secret Pirate Treasure Map
Pirate Boots
Pirate Boots
Wearing the right pair of boots can really help pull a pirate costume together, but you can also wear pirate boots to make a statement with any outfit. When…
More Pirate Accessories
These accessories may also help to bring your pirate outfit together….
 Pirate Hook Pirate Coin Purse Pirate Tattoos Favors
Hi I'm Louanne from Everything Halloween, welcome to my blog! I just wanted to let you know that this post may contain affiliate links which means, at no cost to YOU, that I might receive compensation if you purchase something through a link on my site. In the online world this is called 'affiliate marketing' and is a very common way that bloggers make their money, if you want to find out more then check out this post to find out what is affiliate marketing and how we make money on this site,  If you want to see my full affiliate disclosure and the other 'legal stuff' then click here.