Pirate Boots Look Great
Wearing the right pair of boots can really help pull a pirate costume together, but you can also wear pirate boots to make a statement with any outfit. When it comes to the pirate boot look you can achieve it in two ways; buy a pair of pirate boots or buy a pair of boot cuffs.
Pirate boots can really add a touch of 'sexy' to an outfit and I wouldn't be surprised if Lady Gaga didn't bring out a video wearing pirate boots with just some lingerie!
Men can also carry off the pirate boot look, I mean let's face it we all went weak at the knees when Johnny Depp did it!!!
NOTE: As an Amazon Associate I earn from qualifying purchases – more information below
Ladies Pirate Boots
The key to a good ladies pirate boot seems to be in the use of buckles and/or ribbons. Aside from a pirate costume these boots can be worn with a skirt or jeans for a high end look that will make the menfolk go – wow!
Sexy Black and Gold Pirate Boot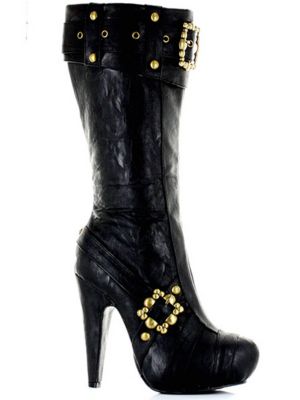 Black Pirate Boots Deluxe for Women
Sexy Pirate Boots for Ladies
Adult Sexy Pirate w/side Laces Shoes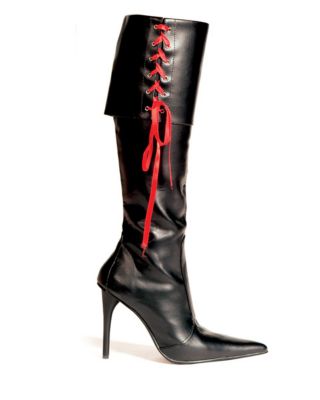 Sexy Black Pirate Boot Adult
More Pirate Boots for Women Costume Ideas
If you don't want to buy a specific pair of boots for a pirate costume you have a couple of choices – use boot cuffs/boot covers – you can see some examples a little further down the page OR get a pair of sexy black boots that are either laced up boots or have buckles and they'll work beautifully with your pirate costume.
Check out these boots and see what I mean……
Patent Lace-up Boots In Black
Sexy Buckle Boot
Pirate Boot Cuffs for Women
Turn Any Boot into a Pirate Boot!
I must admit I do like the idea of boot cuffs because once you've got a comfortable pair of boots to wear you can change their look depending on what you're wearing and you know you can wear them all night without worrying about not being able to walk the next day – or is that just me??!!??
Black & Floral Cuffs
Pirate Boot Cuff Accessory
Ladies Boot Covers
Swashbuckler Boot Covers
Lacey Pirate Boot Cover
Pirate Boot Covers
Men's Pirate Boots
Men can wear pirate boots for an outdoor look which women really dig, add a long moleskin coat along with a pair of jeans and you've got a casual look which will work really well!
Deluxe Buccaneer Pirate Boots
Men's 1 Inch Heel Knee High Pirate With Buckle Décor Boots
Funtasma by Pleaser Men's Halloween Pirate-100
Adult Tall Pirate Boots
Adult Buccaneer Boot
Men's Pirate Boot Cuffs
Turn Any Boots into Pirate Boots – Arrrr!
Think like a pirate and add these pirate boot cuffs to a pair of comfortable boots and you have pirate boots you can wear in comfort all day or all night long!
Pirate Boot Covers
Men's Deluxe Pirate Boot Covers
Pirate Boot Top Costume Accessory
Faux Leather Pirate Boot Tops
Pirate Boot Cover
Buccaneer Boot Tops
More Pirate Costume Necessities
If you want to dress up as a pirate then these pages should be on your 'must read' list –
Pirate Fancy Dress Costumes
Pirate costumes have long been a favorite of children everywhere, the pirate life seems like it's full of adventure when you're a child so haul up the Jolly…
Pirate Costume Hats
If there's one thing that will really complete a pirate costume it't the perfect pirate hat. Generally speaking when we think of black hats with a skull on the fr…
Hi I'm Louanne from Everything Halloween, welcome to my blog! I just wanted to let you know that this post may contain affiliate links which means, at no cost to YOU, that I might receive compensation if you purchase something through a link on my site. In the online world this is called 'affiliate marketing' and is a very common way that bloggers make their money, if you want to find out more then check out this post to find out what is affiliate marketing and how we make money on this site, If you want to see my full affiliate disclosure and the other 'legal stuff' then click here.