Men Love To Dress As Pirates Too! – Pirate Fancy Dress Costumes For Men
Are you looking for a pirate costume for yourself or your partner? Whether you want to dress up as a historical swashbuckler or a notorious pirate like Blackbeard or even a more contemporary big screen pirate like Jack Sparrow then we have the pirate costumes for you.
There are a number of different pirate costumes for men which gives you plenty to choose from and with a sprinkling of pirate phrases your costume will be complete.
Let's walk the plank of decision making and see what costume takes your fancy…….
NOTE: As an Amazon Associate I earn from qualifying purchases – more information below
The Treasure Island Pirate Jacket
Part of a Pirate Costume
If you're looking for a fantastic pirate jacket then this one will serve you well, you just need to add the rest of the outfit in order to pull off your pirate costume, but what a romantic looking pirate you'll be!
Men's Treasure Island Pirate Jacket, Black
&
The way this grey and black coat hangs and swings as you walk combined with the brass buttons that don both the front and the cuffs really make you think of the romantic notion of the pirates of old. It definitely has the look of the classic pirate costume that has been romanticized over the years and should bring any single man a fair bit of attention from the ladies!
Aaarrrr! Me hearties!

It's a pirates life for me!
Regal Pirate Captain Costume
&
This regal looking Pirate Captain costume has a look of a classic Captain Hook about it, doesn't it.    The costume includes the red velvet jacket featured with false pockets, lce cuffs and a silver braid trim.   It also comes with the faux leather vest that has the white jabot, silver braid trim and red sash.   The costume also includes the cropped pants which have elastic at the waist and cuffs.   All you need to add is hat, boots and weapon of choice.
If you're going to dress as the captain though you'd better be prepared to be harsh yet fair or they'll be rebelling against you!
Blackbeard Pirate Costume
&
One of the most infamous of all pirates Blackbeard ruled the high seas on board his ship the Queen Anne's Revenge. This costume ensemble includes the coat, hat, jabot and belt it doesn't include the beard (which is an absolute must with this costume), pants, shirt, boots or weapon.
More Pirate Costumes
Click on the individual costume that you like for more information on what's included in the costume or just to see a bigger picture. These really are some awesome pirate costumes for men and I find it really hard to select a favorite myself – what about you?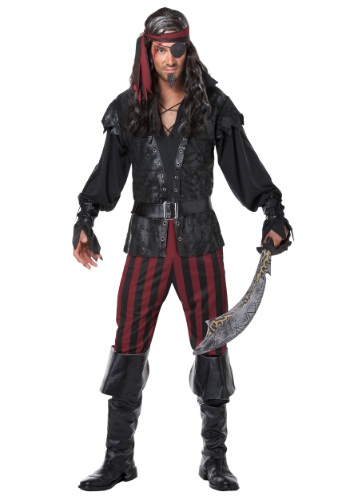 MEN'S RUTHLESS ROGUE PIRATE COSTUME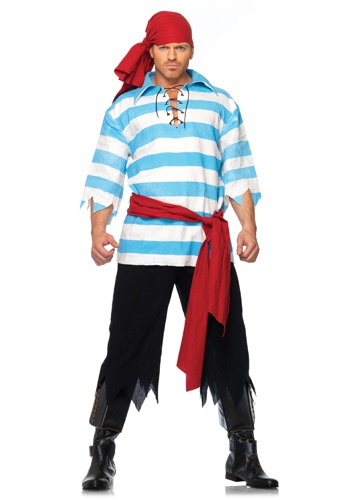 MENS PILLAGING PIRATE COSTUME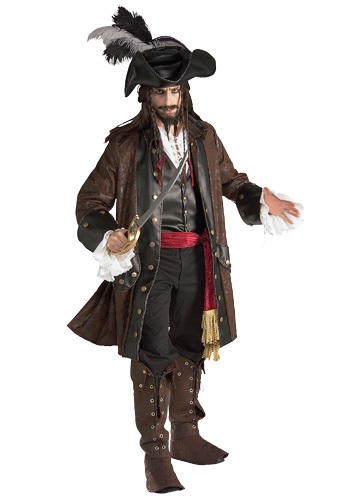 AUTHENTIC CARIBBEAN PIRATE ADULT COSTUME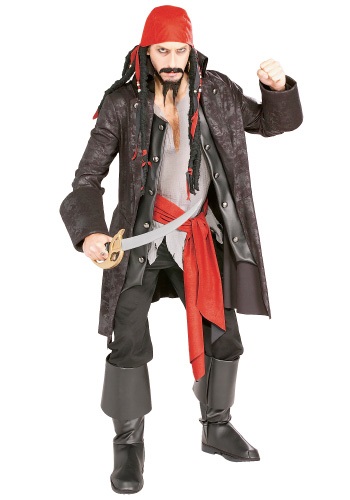 ADULT CAPTAIN CUTTHROAT PIRATE COSTUME

&
Pirate Boots and Hats
Some of these costumes include all the accessories that you need to be a fantastic looking pirate for the day, but sometimes you need a little extra like the perfect pirate boots or hats and I've got you covered on these pages –
Pirate Boots
Wearing the right pair of boots can really help pull a pirate costume together, but you can also wear pirate boots to make a statement with any outfit. When…
Pirate Hats
If there's one thing that will really complete a pirate costume it's the perfect pirate hat. Generally speaking when we think of black hats with a skull on the fr..
Shiver me timbers!
It's Captain Jack.
Captain Jack Sparrow Costume
Pirates of the Caribbean Costumes
One of the more popular pirate costumes being worn over recent times is that of Captain Jack Sparrow from the hugely successful Pirates of the Caribbean movies.
&
Brought alive by Johnny Depp on the big screen the success of this movie franchise has clearly put pirates well and truly back on the fancy dress list, not that I personally believe they ever fell off!
Jack Sparrow Pirate Gear
You can really complete the look with Captain Jack's rings, temporary tattoos, beads and more –
People in Pirate Costumes
It's Time To Dress Up As Pirates!
Photo Credits
From top right going clockwise – Alaskan Dude | stevevoght | Alaskan Dude | Alaskan Dude | celebdu | greyloch
More Pirate Costumes
Pirate Fancy Dress Costumes
Pirate costumes have long been a favorite of children everywhere, the pirate life seems like it's full of adventures so haul up the Jolly…
Hi I'm Louanne from Everything Halloween, welcome to my blog! I just wanted to let you know that this post may contain affiliate links which means, at no cost to YOU, that I might receive compensation if you purchase something through a link on my site. In the online world this is called 'affiliate marketing' and is a very common way that bloggers make their money, if you want to find out more then check out this post to find out what is affiliate marketing and how we make money on this site,  If you want to see my full affiliate disclosure and the other 'legal stuff' then click here.