If you're a fan of Tudor times, whether because you enjoy history or you just love the television show – The Tudors – then you'll probably enjoy putting together an Anne Boleyn costume.
NOTE: As an Amazon Associate I earn from qualifying purchases – more information below
There are a number of different dresses that you can use for her costume, I've just selected on here which you can see –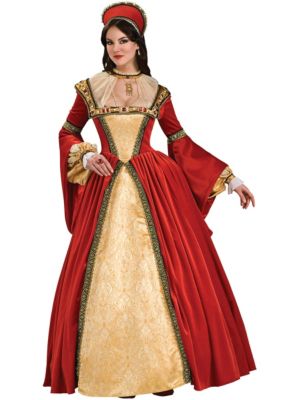 Women's Anne Boleyn Costume
There are a few different reasons that I chose to showcase this particular costume over others and one is because the head dress was included with the gown.   In every portrait I've seen of Anne Boleyn she's always wearing a French Hood which is why I wanted to get that included in a costume.
I've actually seen a great Anne Boleyn gown which I preferred the look at on a Tudor Costumes Idea page, but it didn't come with a French Hood which I think is very important and I didn't feel like making one myself!
Another reason is that the neckline on this gown is square and in most portraits of Anne she does wear gowns with a square neckline so this seemed in keeping with her.   The sleeves also seemed to be the right style.
I do love the colors on this dress too and they are certainly colors that could have been worn by royalty at that time.
The only thing that I don't really like about this costume is the gauze like looking material attached to the neckline that goes up into a ruff like collar, but no costume is going to ever be perfect unless you make it yourself!
Now once you have this costume you'll want to add a couple of extra things to really hit all of the spots.   A piece of jewelry that Anne Boleyn always wore was her 'B' pendant which she left to her daughter Elizabeth upon her unfortunate death.
You'll see in the image above that the model is actually wearing a replica with the gown and it goes beautifully.   I think it's important to buy the Replica Anne Boleyn Pearl Choker Necklace to wear, but you should also wear a long single strand of pearls with it as well as a plain, long gold link chain.   This will make your Anne Boleyn costume very authentic.
Now you can actually purchase Tudor Shoes
, but to be honest I've never seen a portrait of Anne Boleyn's feet so I'd just a plain pair of pumps with the costume myself.
Hi I'm Louanne from Everything Halloween, welcome to my blog! I just wanted to let you know that this post may contain affiliate links which means, at no cost to YOU, that I might receive compensation if you purchase something through a link on my site. In the online world this is called 'affiliate marketing' and is a very common way that bloggers make their money, if you want to find out more then check out this post to find out what is affiliate marketing and how we make money on this site,  If you want to see my full affiliate disclosure and the other 'legal stuff' then click here.