80s Costumes are Cool Dude!
If you're looking for a cool costume idea for a man this year then why not check out the eighties for inspiration?
There are so many cool 80s costume ideas for men that are absolute classics from Ghostbusters to his holy purpleness Prince, Billy Idol, MC Hammer and so many more.
If you've never been to a toga party in your life then you may not have grown up in the 80s under the influence of movies such as Animal House and been introduced to Bluto, a very simple costume idea in itself.
Let's take a walk back in time to the 80s and catch up with the likes of Marty McFly, Adam Ant and ALF and get some truly bodacious costume ideas for you to try out this Halloween ……. in fact you might get so many ideas you decide to start throwing 80s parties and they're never a bad idea!
NOTE: As an Amazon Associate I earn from qualifying purchases – more information below
The Big List of 80s Costumes for Men
Awesome Costume Ideas for Eighties Dudes!
There really are lots of ideas for and 80s costume that will suit a guy so if you really can't think of one then just check out the list below for ideas. I'll discuss actual costume ideas further down the page and I'll also be linking to costume ideas on this list to make it easier for you if you see the perfect idea for you.
But firstly though, let's have a look at a few costume ideas inspired by 80s movies such as Ferris Bueller, Labyrinth and Back to the Future to name a few.
80s Goth
80s Hip Hop
80s Jock
80s Preppy
80s Punk
80s Yuppie
Adam Ant
ALF
Beetlejuice
Billy Idol
Blues Brothers
Bluto
Edward Scissorhands
ET
Flock of Seagulls singer
Freddy Mercury
Karate Kid
Magnum PI
MC Hammer
Miami Vice
Michael Jackson
Mikhail Gorbachev
Mr T
Pac Man
Pee Wee Herman
Prince
Rambo
Robert Smith (from The Cure)
Ronald Reagan
Rubiks Cube
Scarface
Smurfs (any of them)
Superman
Teen Wolf
Top Gun
Our Favorite 80s Aliens Make Great Costume Ideas
During the 80s there are two lovable aliens who instantly spring to my mind, the first was a regular to our television screens brought to us from the planet Melmac where his real name is Gordon Shumway. I'm talking, of course, about the big furry wiseguy who we called ALF (alien life form).
The second is an alien that caused my best friend to cry when we watched him on the big screen and made us all want to phone home. This lovable alien also made a star out of a very young Drew Barrymore and is of course known to us all as ET.
Either of these aliens would make a cool unisex costume. If you're a single guy you should know that millions of girls around the world thought this guys really were 'out of this world' cute!
ALF Costume
This ALF costume looks so cute I wouldn't want to unleash it without first making sure that any cats are hidden away!
Alf Costume (Standard)
I absolutely loved ALF and watched it religiously every Thursday night with the rest of the family, it was the night when we all watched tv and ate junk food for dinner – ALF, Sledgehammer (my father loved to say, 'trust me, I know what I'm doing) and LA Law.
This bodysuit certainly looks like it would be a warm costume which would make it ideal if you have to dress up in the winter. It looks very realistic, except the height of it and just seeing the image makes me feel very nostalgic indeed.
ET Costume
Now I know a lot of people thought ET was cute, but look at his face, I'm sorry but he was pretty ugly!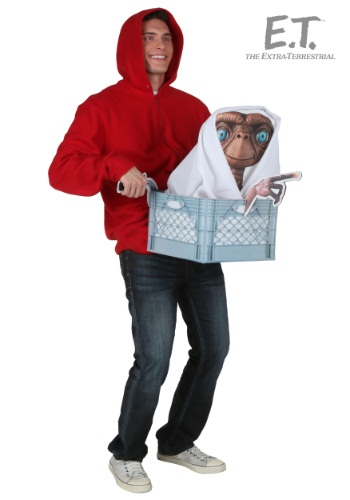 Elliott & E.T. Costume
There was something utterly endearing about him though and as far as iconic characters of the 80s go he was right up there which makes him a perfect costume choice.
I can't find an 'actual' E.T. costume available at the moment, but this one is a costume of Elliott with E.T. in his bike basket which is pretty cool.
The costume includes a red zip-up style hoodie, the 'bike basket' with handlebars (this is actually made of cardboard), a cardboard E.T. bust with pointing finger that fits inside the basket and a white blanket to cover the bust.
80s Fashions for Men
How do you encapsulate 10 years of diverse fashion into a few paragraphs to sum up what men were wearing? I can't think of a more diverse time in men's fashion than the 80s – the haircuts alone varied enormously depending on your 'clique' as well as what year it was.
We had the mullet, the perm, the rats tail, the rocker look, the asymmetrical look, the preppy look and so much more – why we even had a white guy wearing dreads in the shape of Boy George which was absolutely unheard of until the 80s hit.
As far as clothing went you had acid-wash jeans which were often worn with an acid-wash denim jacket although as the decade progressed brown or grey leather jackets were worn with your jeans instead. Suits were big along with pastel colors – fathers around the world were disgusted to see their boys wearing 'sissy pink', it was so rebellious! Of course, if you're wearing pastel colors then that also meant combining the suit with boat shoes and (gasp) no socks!
Thin, black leather ties were added to shirts and some people even owned piano key ties which were pretty cool! Sharks tooth pendants (I don't think they were all sharks teeth as they were mainly brought at dodgy market stalls, but….) pendants were an important accessory to wear.
I haven't even touched on half of the fashions, but I hope it's given you a few ideas on the diversity of men's clothing during this tumultuous decade.
Fun 80s Costume Ideas for Men
Cool Threads Man!
Here are a few ready-made costume ideas for guys that you might like to look at getting, or just get inspiration from if you're planning on making your own outfits.
 Men's 80s Fashion Tracksuit

 Old School Rapper Costume

 Men's Top Gun Costume

Hi I'm Louanne from Everything Halloween, welcome to my blog! I just wanted to let you know that this post may contain affiliate links which means, at no cost to YOU, that I might receive compensation if you purchase something through a link on my site. In the online world this is called 'affiliate marketing' and is a very common way that bloggers make their money, if you want to find out more then check out this post to find out what is affiliate marketing and how we make money on this site,  If you want to see my full affiliate disclosure and the other 'legal stuff' then click here.