Cool Monster High Costumes
Looking for some cool Monster High costumes? You've come to the right place as we have some fangtastic costume ideas based on your favorite high school ghouls.
Whether your favorite Monster High character is Frankie Stein or Lagoona Blue we have all of the costume ideas right here waiting for you.
If you haven't heard of Monster High then you don't have any young girls in your life! Monster High started life as fashion dolls from Mattel, but they've evolved into so much more since then. There are Monster High books, television shows and they even have their own website! Basically Monster High Rules!
NOTE: As an Amazon Associate I earn from qualifying purchases – more information below
Monster High Abbey Bominable Costume
A Very Cool Monster High Costume Idea
The sixteen year old daughter of the Yeti this is a cool costume idea – I especially love the blue in the costume, after all Abbey's favorite color is ice blue!
Being the daughter of the Yeti it's hardly surprising that Abbey's costume should have fur on it as it's all part of her personal style – it also helps to keep her warm when she's showing off her snow boarding skills!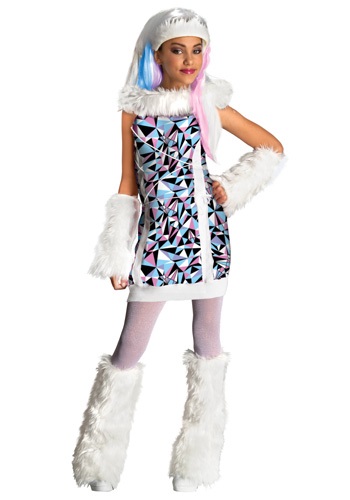 Abbey Bominable Costume for Girls

&
This official Monster High Abbey Bominable costume includes the kaleidoscope dress in black, pink, white and , of course, blue as well as the furry arm and leg warmers.
Wig, make-up and shoes are not included with this costume, but you can buy them seperately.
White tights are a great idea to wear with this costume and you can team them with any white shoes that you like because the attention is going to be on the white fur leg warmers when it comes to Abbey's legs!
You can actually purchase officially licensed Monster High make up kits
including Abbey's make-up along with her other classmates.
I have to say that I saw this costume on not one, but three different young girls when I was at a Halloween event last year and it looked great!   Two out of the three wore white tights while the other one had bare legs and I really think the white tights adds something to the whole look.
Clawdeen Wolf Costume
A Stylish Monster High Costume
Clawdeen Wolf is the 15 year old daughter of a werewolf who knows she's gorgeous and dresses with confidence.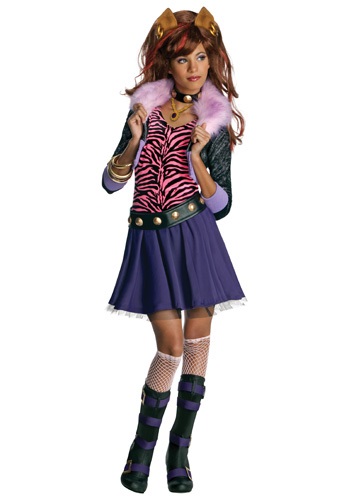 Clawdeen Wolf Costume for Girls

&
Included in this costume are the jacket, shirt, skirt, studded belt, studded choker and boot tops. Note – the wig, ears and make-up are not included.
You can purchase an official Clawdeen Wolf wig which includes ears as well as Clawdeen's official Monster High make-up.
Let's look at what is included in this costume though – first I love, love, love the purple and black boot tops.   The great thing about getting boot tops is that your daughter can wear a comfy pair of black shoes of her own and just pop these on so that it looks like she's wearing a fashionable pair of Clawdeen's boots.
The matching studded belt and choker is something that I can see your daughter adopting into her own wardrobe as part of a 'rocking it with confidence' look!
Clawdeen's black jacket has purple trim to match her cool purple skirt and you've got to love the black petticoat detailing around the bottom of the skirt – it's enough to make you want to growl in delight!
More Clawdeen Wolf Costumes For Girls
 Monster High Frights Camera Action Clawdeen Wolf Costume Monster High Haunted Clawdeen Wolf Child Costume
Monster High Cleo De Nile Costume
Walk Like an Egyptian in This Cool Girls Costume
Daughter of a Mummy Cleo De Nile is the leader of the fearleading squad and a true Egyptian princess!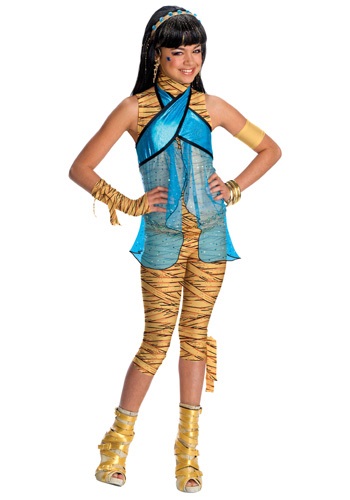 Cleo De Nile Girls Costume

&
Cleo loves gold as you can see in her costume, in fact it's about the only thing that her and Clawdeen can agree on!   She does rock bright blue though as evidenced with this costume that includes a sheer blue overshirt.
Included in this Cleo De Nile costume is a shirt, leggings, belt and glovette in a matching gold 'mummy-style' material along with a gold arm band (very Egyptian).   The blue overshirt is apparently attached to the gold shirt and really completes the outfit.
Not included is the wig, make up shoes and jewelry that Cleo is also pictured wearing here.   I would definitely let your daughter wear some gold bangles if she has any as it is just so Cleo De Nile!
As I've stated previously you can purchase official Monster High make up for all of the students along with their individual wigs.
Draculaura Costume
A Pretty in Pink Monster High Costume
It's no surprise that Draculaura is Dracula's daughter who loves to brighten up her life (and her wardrobe) with pink as you can see in her costume.
Monster High Draculaura Costume

&
Included in this costume are –
Pink velour vest with attached collar and sleeves
Dickey style band collar with lace trim
Mesh sleeves with lace wrist trim
White satin skirt with attached tulle petticoat
Separate mesh tights match sleeves
Note – the wig and make up is not included.
This whole costume really is fangtastic as Draculaura would say and if you wanted to add something extra to the outfit then find a black and pink frilly umbrella (or just a pink one).   Draculaura often carries a frilly umbrella with her so that she can take an occasional walk in the sun.
If you want more costume ideas for Draculaura then be sure to check out the page below which includes her fear squad costume, dot dead gorgeous dress and her sweet 1600 outfit as well as other ideas on creating your own costume based on your favorite Monster High vampire.
Check out more costume ideas for Draculaura or just a range of different things for a cool Draculaura dress up box at this site –
Monster High Draculaura Costume Ideas
Frankie Stein Monster High Costume
A Frightfully Cool MH Girl's Costume Idea
The daughter of Frankenstein Frankie Stein is the envy of her friends with the absolute best body for fashion! Her love of black and white stripes is nicely demonstrated with her monsterley stylish hair.
Frankie Stein Monster High Costume

&
Unfortunately the wig is one of the things not included in this costume along with the shoes and jewelry, what is included however is the dress, tie, belt and leggings.
The pretty plaid dress matches Frankie's green skin really well and it has and attached stitch sleeve and polka dot tie with the Monster High logo on it.
The leggings has the same stitch pattern as her sleeves and really 'make' the outfit as one of Frankie's pet peeves is that her stitches sometimes come loose and limbs go flying though the air!   The stitch detail helps this Frankie Stein costume keep that illusion.
Also included in this costume is a cool studded belt which just adds a rebel look to Frankie's attire which a lot of young girls will also enjoy.
Check out even more cool Frankie costume ideas below –
 Monster High Frankie Stein Girls Costume Monster High Sweet 1600 Frankie Stein Costume Monster High Freak Du Chic Frankie Stein Costume Monster High Scaris Frankie Stein Child's Costume
Ghoulia Yelps Costume
Cute Monster High Costume
The daughter of Zombies Ghoulia loves her nerd style glasses as in her words, 'they absolutely go with everything.'
Girl's Monster High Ghoulia Yelps Costume
&
Her costume leaves you in no doubt that her favorite color is red as it really does dominate this outfit!
The white cat eye style of 'nerd' glasses is included in this Ghoulia Yelps costume along with her top, belt and pants.
Note – Wig, make-up, necklace and sneakers are not included.   I must admit I think it's a shame that the sneakers aren't included as they're really cool.
Let's look at the costume in more detail – the pants are in Ghoulia's favorite color of red with black dots over them which adds a cool dimension to her outfit.   The belt is Ghoulia's signature piano belt that you have to include with any of her outfits.
The top is really cool giving the illusion that it's a top over a top and you've got to love those fishnet/mesh style sleeves.
Monster High Howleen Wolf Costume
Howleen is the baby sister of the Wolf family, but she certainly knows how to stand out from the crowd as you can see with her costume here.
Monster High Howleen Wolf Child Costume
&
Having a popular big sister like Clawdeen and a big brother like Clawd it's hardly surprising that Howleen wants to make her own mark in the world as I'm sure all younger siblings can sympathize with.
This officially licensed Monster High costume is based on Howleen's outfit from the 13 wishes line and includes the very 80s inspired dress with attached jacket along with the belt, single glove and bright pink tights.
All you need to do to complete the costume is to get a pair of black boots and Howleen's wig.
Howleen drives Clawdeen crazy when she raids her wardrobe without asking her, but I think this outfit is much better on her than her sister's clothes as it adds a youthful, punk inspired edge which suits her really well.
Jinafire Long Costume
An Eastern Inspired Monster High Costume Idea
Jinafire is a dragon from Shanghai and is very fiery in temperment as you'd expect a dragon to be, she's also very fashion conscious which is why she gets on so well with Skelita and Clawdeen.
&
This costume certainly has a lot of far Eastern flair to it and it's put together in a very fun way which is part of it's appeal.
The costume consists of the dress, tail (well she is a dragon so she has to have a tail) and belt.
Unfortunately her amazing wig isn't included, but can be brought separately and is available on my Monster High Wigs page.
Lagoona Blue Costume
An Official Monster High Costume
Daughter of a sea monster Lagoona Blue is really comfortable relaxing in baggies, tank top and floppies although with her looks she can rock a cute dress any day of the week..
Lagoona Blue Monster High Costume
&
Lagoona's favorite color is ocean blue which is hardly a surprise as she loves the water as you can see from her costume which rather reminds me of a mermaid!
I must admit I absolutely love Lagoona Blue's costume, first let's look at her top which is pink with black that looks like fish scales.   The top has a a jacket that's attached to it along with fins ……. well she is a daughter of the ocean!
She is wearing a black skirt that has some cool leggings attached and I think these leggings really help to make the costume.   They are a beautiful blue and are really sheer …… they also have fins attached.
The wig, shoes and make up are not included with this costume, but the look of a Swim Team Captain at Monster High is definitely included!!
Monster High Operetta Costume
Daughter of the Phantom of the Opera Operetta loves all music not just opera, but especially Elvis Presley. A perfectionist who loves her music Operetta certainly has plenty of her own style about her as you can see with her gorgeous costume.
Rubies Girls Monster High Operetta Costume
&
This licensed costume includes her jacket with attached shirt, pants, belt and her amazing eye mask which I am just a little in love with!
Her jacket has spiderwebs over the shoulders which I think is to play homage to her pet, Memphis "Daddy O" Longlegs, who as the name would suggest is a spider!   The belt has music notes over it as well as a spiderweb which all seems to be perfect for this diva of a ghoul.
Her gorgeous red hair is fashioned in 1940s inspired victory rolls and unfortunately the wig isn't included in the costume, nor are the shoes and socks although I'm sure you'd have suitable shoes and socks in your wardrobe to complete this relatively casual looking outfit.
Skelita Calaveras Costume
Hailing from Hexico Skelita is what's known as a calaca (a skeleton used to celebrate the Day of the Dead), her whole family is made up of skeletons and her face is always made up to look like a sugar skull.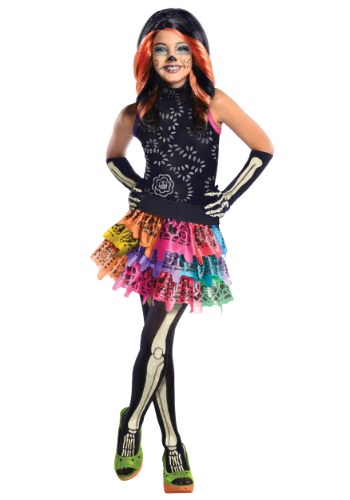 Monster High Skelita Calaveras Costume for Girls

&
This costume consists of gloves and tights with bones on them to imitate her skeletal figure along with a dress and belt.  Her gorgeous black and marigold hair can be captured in the wig shown her, but unfortunately it isn't included in the costume.  It can be purchased separately if you like and I would personally recommend it as I think the wig is beautiful.
Create the cool sugar skull detailing on Skelita's face with the help of this video tutorial.
Monster High Spectra Vondergeist Costume
Spectra rocks the hot pink and black in a way that my daughter loves – no guesses as to who she'd want to dress up as at a Monster High party!
The daughter of ghosts Spectra loves to wear layers of silk with a touch of metal (like the belt this costume includes), that way she can float around like a very graceful ghost and make a little rattle just so that people know she's there!
Monster High Spectra Vondergeist Costume – Girls
&
One thing that disappoints me with this costume is that the shoes and ball and chain are not included.   I loved the look of them in the image so was upset to see that I'd have to try and create them myself.
What is included in this Spectra costume is the top, skirt, belt and cuff which, luckily, are the things my daughter loves!
The top is made up of faux leather and pink velveteen and has three silver chains on the front as a nice form of embellishment.   The skirt is a matching one with a handkerchief hemline that girls love the look of.
The belt and cuff both match and are important accessories to Spectra Vondergeist's costume.
Monster High Twyla Costume
Daughter of the Boogey Man Twyla is very shy and often misunderstood, I would call her an introvert in nature.  Her blue-grey skin is topped off with an amazing looking pastel colored hair that reaches down to her hips.   Her cascading locks are a pastel green in color with both blue and purple stripes running through it which makes her really stand out from the crowd.
Her wardrobe includes a lot of pastel green, blue and black as these are the colors she loves to wear that also look great with her hair and skin tone.
Monster High Twyla Costume
&
The official Monster High Twyla costume featured her includes both the dress and the tights – I would add a pair of silver gloves and the matching wig to really make the outfit 'pop'.
More Monster High School Costume Ideas for Girls
Catty Noir, Elissabat, Honey Swamp and more
 Monster High Catty Noir Child's Costume Monster High Haunted River Styx Child Costume Monster High Elissabat Costume, Child Monster High Honey Swamp Costume, Child Monster High Viperine Gorgon Costume Monster High Nefera De Nile Child Costume
Hi I'm Louanne from Everything Halloween, welcome to my blog! I just wanted to let you know that this post may contain affiliate links which means, at no cost to YOU, that I might receive compensation if you purchase something through a link on my site. In the online world this is called 'affiliate marketing' and is a very common way that bloggers make their money, if you want to find out more then check out this post to find out what is affiliate marketing and how we make money on this site,  If you want to see my full affiliate disclosure and the other 'legal stuff' then click here.