Cool Adult Zombie Costumes Men Will Love
I love how much zombies have impacted on pop culture recently and one of the reasons I love this is because of the range of zombie costumes now available. If you want to buy a costume as opposed to making your own the selection only a few years ago was very small, now it's amazing.
I've selected some of the men's costumes that I think are the best so whether you're shopping for Halloween, a Zombie Walk or you just want to look like a zombie then I'm sure you'll enjoy these cool outfits.
NOTE: As an Amazon Associate I earn from qualifying purchases – more information below
Relive your 'glory days' with a zombie football player or go back in time to become a zombie gladiator, it's a case of anything goes when it comes to zombie costumes!
Zombie Gladiator Costume
An Undead Roman Can't Be Beaten!
Zombie Gladiator Costume
A Roman Gladiator who becomes a zombie, surely that means he really is unstoppable? Not only is he strong, he no longer feels pain and just keeps going. Unfortunately he probably doesn't even remember who he is or even who he's supposed to be defeating, all he wants is more brains!!
Zombie Stormtrooper
Star Wars is Now Zombie Wars!
This costume is absolutely perfect for any Star Wars fan who also loves zombies – it really is a perfect cross-over costume that I could see as being a cult hit! Now I wonder if Chewie could ever become a zombie……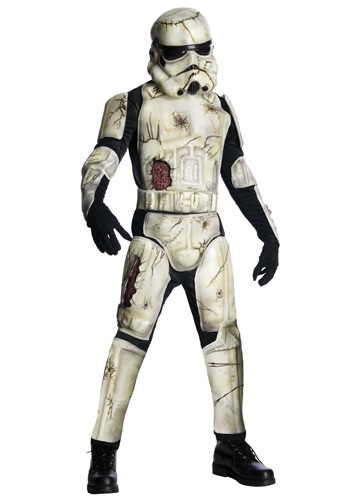 Adult Deluxe Death Trooper Costume
This costume includes the jumpsuit with attached armor as well as a two pieced mask and a belt. I think it looks sensational and as a bonus you just need to put this on and you're done. No need to worry about hair or make up which will save you a lot of time and mean you're ready to get your zombie on in plenty of time!
Zombie Football Player Costume
A Sporty Zombie?
I think this costume is a really cool concept. The poor guy hasn't had a chance to finish living his 'glory days' before he was infected by a zombie, but at least he won't have to keep re-living them as the best days of his life!!
Could you imagine a whole team of zombies playing football …… maybe if the football was a brain they'd be more interested, what do you think?
Smiffy's Men's High School Horror American Footballer Costume with Top Trousers and Helmet, Multi, Large
This costume consists of three pieces – helmet, shirt and pants. You'll need to add face paint to make your eyes really dark and decide on what footwear to add to it.
Zombie Monk Costume
This Zombie Has Taken Holy Orders!
Zombie Monk Costume
A monks costume is what my husband always refers to as a very 'forgiving' costume which some people will appreciate. This very tatty looking robe comes with a hood which means you don't have to worry about a wig or doing something zombie like with your hair (always a bonus!). The costume also includes a shoulder stole which has the cool cross details on it. Just stay away from the Holy Water as I'm not sure what it will do to a zombie, I know it burns vampires…..
Hi I'm Louanne from Everything Halloween, welcome to my blog! I just wanted to let you know that this post may contain affiliate links which means, at no cost to YOU, that I might receive compensation if you purchase something through a link on my site. In the online world this is called 'affiliate marketing' and is a very common way that bloggers make their money, if you want to find out more then check out this post to find out what is affiliate marketing and how we make money on this site,  If you want to see my full affiliate disclosure and the other 'legal stuff' then click here.