If you're holding a Halloween party this year, you'll want to find some cool Halloween invitations to send out, but what sort to get? There are so many cool Halloween invites around it can be hard to choose just one type, I must admit I love the selection of haunted house invites – they're spooky, very Halloween-centric (is that an actual word?) and they don't keep you confined to a certain theme. Let's face it sometimes you don't know if you want to go for bats in the belfry, a bloodbath in the bathroom or zombies in the yard when it comes to Halloween themes.
There's a variety of cool Halloween party invitations on Zazzle that feature the Haunted House theme and here's some of my favorites –
Have you ever noticed how many haunted houses are on top of a hill???
These party invitations are certainly pretty cool looking and I just can't resist giving you a few more –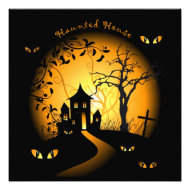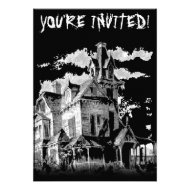 Simply click on any invitation that you like the look of for more information, a bigger image or to buy it, it's that easy!
Hi I'm Louanne from Everything Halloween, welcome to my blog! I just wanted to let you know that this post may contain affiliate links which means, at no cost to YOU, that I might receive compensation if you purchase something through a link on my site. In the online world this is called 'affiliate marketing' and is a very common way that bloggers make their money, if you want to find out more then check out this post to find out what is affiliate marketing and how we make money on this site, If you want to see my full affiliate disclosure and the other 'legal stuff' then click here.