A baby's first Halloween means choosing a great costume, but as a parent you also want to make sure that your baby is comfortable as well as looking absolutely adorable – this means choosing one of the baby bunting Halloween costumes available.
I absolutely love baby bunting costumes they are just so cute and there are quite a few to choose from including Superhero costumes, food costumes or even Halloween inspired costumes (think candy corn, pumpkins and witches), it's hard to know where to start.
NOTE: As an Amazon Associate I earn from qualifying purchases – more information below
It's not only the cute factor though, these costumes allow a baby to stretch and kick as it wants and is comfy enough for them to sleep if they need to, basically it's like a baby sleep suit disguised as a Halloween costume.
The only problem is which of these baby bunting Halloween costumes to choose.   To make things easier I've selected a few of my favorites for you.
Baby Girl Bunting Costumes
Cute & Adorable, Baby's First Halloween Costume Ideas
Ladybug costumes have long been popular with young girls and there are some gorgeous ladybug baby bunting costumes to choose from. This one is probably my favorite of them all, I love the headpiece as well as the bunting costume.
Ladybug Bunting Infant Costume – Kid's Costumes
&
I think this Baby Mermaid Costume is absolutely adorable. The legs have ample room to move in the 'bunting' part of the costume while the 'fin' part of the 'fish tail' is on the bottom.
The costume also comes with a cute headpiece, although depending on your baby this may or may not stay in place! A gorgeous costume in my opinion.
&
I also think that the next costume is pretty cute as a baby girl costume – an adorable pink monster. This baby girl bunting costume is a hooded one as well which some babies don't seem to mind as much as headpieces.
Pink Monster Baby Bunting Costume

&
Baby Boy Bunting Costumes
Simply Gorgeous Baby's First Halloween Costume
A classic baby boy bunting costume is a football inspired one, the first of these that I ever saw was a football costume which was very cute. My favorite one, however, is the next one which is 50% football and 50% football player and 100% cute!
Newborn Football Bunting, Newborn Ages 0-9 months)
&
Of course there's always a superhero or two that you can dress your baby up as and it was a real toss up between Superman and Batman for this next costume, but I think the Superman bunting costume was just a little cuter!
Superman Deluxe Bunting Infant Halloween Costume
&
Of course you can't look at baby bunting costumes without coming up with a few monsters and this one is just as cute as the pink one featured above –
Underwraps Baby's Monster Bunting Belly-Babies, Blue/Green, Infant
&
More Baby Bunting Halloween Costumes
There are so many costumes available that it's hard to know where to stop so here's a few more that I love which you could use for girls or boys.
This first costume is a caterpillar one, now there's a few different caterpillar costumes available but for me this is the cutest. I think it reminds me of the Very Hungary Caterpillar, it also looks extremely comfy and the hat is simply adorable –
Caterpillar Baby Bunting Costume
&
As all babies are sweet a 'sweet' costume seems like a no brainer idea enter…..the tootsie roll!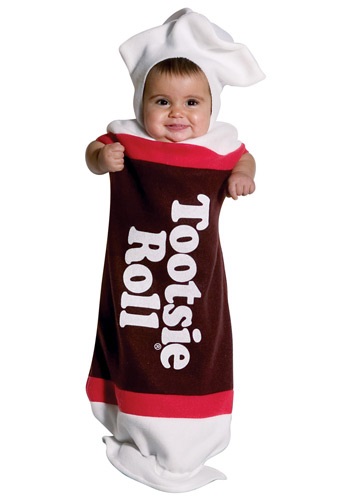 Tootsie Roll Raby Bunting Costume

&
There are lots of different food inspired baby bunting costumes to choose from, but I just like this next one…
&
Which baby bunting costume do you think is the best?   One of the ones pictured or some other costume ideas?
Hi I'm Louanne from Everything Halloween, welcome to my blog! I just wanted to let you know that this post may contain affiliate links which means, at no cost to YOU, that I might receive compensation if you purchase something through a link on my site. In the online world this is called 'affiliate marketing' and is a very common way that bloggers make their money, if you want to find out more then check out this post to find out what is affiliate marketing and how we make money on this site,  If you want to see my full affiliate disclosure and the other 'legal stuff' then click here.